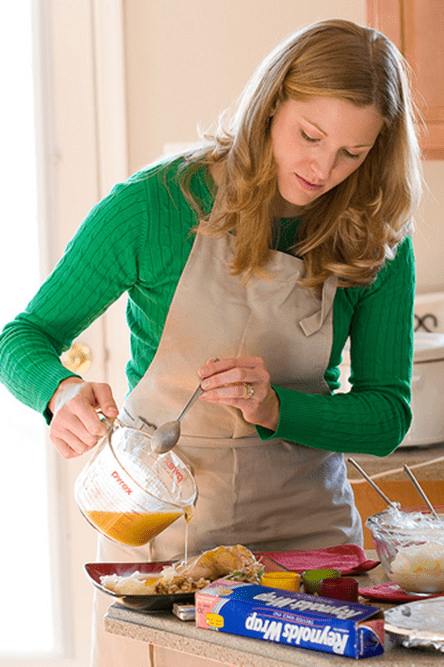 Thanksgiving and Christmas are coming, and for most families, that means more time spent in the kitchen. Cooking and eating during the holidays should be fun and foster family bonding. However, the kitchen can be a dangerous place if you don't navigate it properly. These kitchen safety tips will help take some of the stress out of this holiday season.
Make Some Meals in Advance
Perhaps nothing is more dangerous than a stove crowded with too many pots and pans at once. When you cook several dishes simultaneously, you're likely to forget basic safety rules, such as turning pot handles so they face away from your hands. Experts recommend finalizing the menu a week in advance, so you can work on main dishes, like turkey. Side dishes, such as cranberry sauce, should be prepared the day before the holiday.
Focus on Cooking
Babysitting the stove can get boring, so many cooks leave food cooking to watch television, read, complete chores, or check on the kids. This leads to burnt food, pots that boil over, or even kitchen fires. One distraction can lead to another, so set aside a specific block of time for cooking; and then, stick to it. Leave other chores for later and ask your spouse or a relative to watch the kids. Finally, use high-quality cooking timers to avoid burns and spills.
Remove Clutter
Many kitchen accidents happen because the cooking area and the places around it are filled with clutter. You should only plug in the appliances you need, unplug the rest, and store them in a safe place. Keep oven mitts, pot holders, and other tools at a safe distance from the cooking area. Finally, do not light candles in your kitchen while cooking – they are a major fire hazard!
Keep Others Out
Experts agree that crowd control in the kitchen is a must. It's probably tempting for your spouse or kids to come in and sneak a taste, but don't let them get away with it. An elbow could clip a pot or pan and knock it to the floor, or someone could get burned. Plan ahead, as noted above, and make sure everyone knows the kitchen is off-limits except to the cooks. If you're teaching kids to prepare meals, suspend lessons until after the holidays.
Make Sure Smoke Detectors Work
A common cooking joke says, "Dinner will be ready when the smoke alarm goes off." Yet, when it comes to holiday cooking, smoke alarms are no laughing matter. Never disable yours. Before cooking, make sure all smoke alarms have new batteries and are in good working order. Teach older kids how to check the batteries, so you have some help during the holiday cooking rush.
Be Safe Around Blades
Burns are not the only injuries you have to worry about during holiday cooking. Knives, blenders, and other kitchen utensils are also dangerous. When chopping vegetables, never take your eyes away from the knife. Store knives with blades facing away from hands so that no one accidentally grabs the blade. Unplug blenders and similar appliances before cleaning blades.
Robert Erney wants you and your family to have a safe and happy holiday season. For more information on safety or to discuss your personal injury claim, please contact us today.