5 Locations in Columbus To Take Motorcycle Safety Course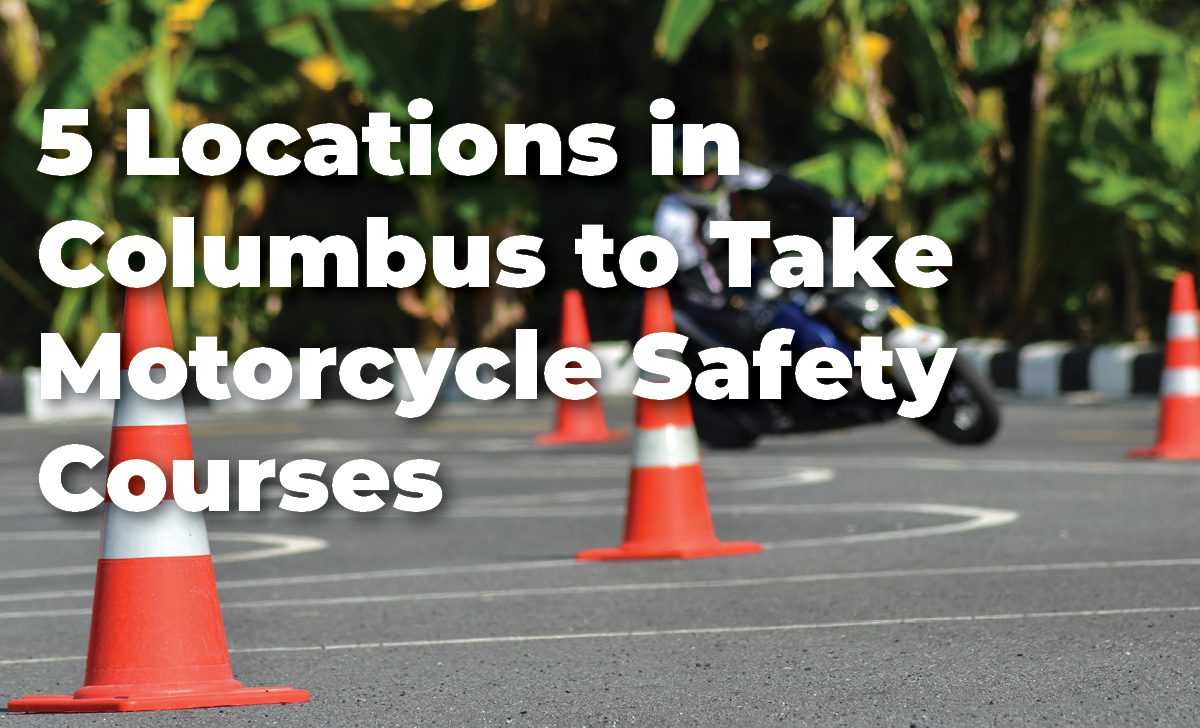 Some people make it their dream to own a motorcycle one day. People are drawn to the freeing feeling of just you, your bike, and the road. Not only do motorcycles look cool, but they are also cheap on fuel and minimal maintenance. However, everyone can agree motorcycles can put the rider in a vulnerable position. Motorcycles are dangerous. Roughly 5,000 motorcyclists die every year from motorcycle accidents. 
Riding a bike does not have to be dangerous, but it is dangerous when a motorcyclist is not properly trained. In fact, in Ohio, it is not mandatory to complete a motorcycle safety course before obtaining a motorcycle license. Just because the state does not require it, does not mean you should take it upon yourself to learn properly and protect yourself. Through proper training, you can gain confidence from hands-on experience with your bike and learn the basic fundamentals of motorcycling. 
Why Should You Take a Motorcycle Safety Course?
The more a person knows about how a bike works before hopping on one, the less likely a motorcycle accident or injury will occur. Riding a motorcycle takes skill and knowledge to master. Therefore, taking a motorcycle safety course can be extremely helpful for this learning experience. However, there are other reasons why taking the course is important.
Here are the benefits of taking a motorcycle safety course:
It enables new riders to gain confidence through hands-on training.

Strengthens or develops defensive riding skills.

Acts as a refresher safety course to experienced riders.

It produces reliable riders.

It builds the reputation of motorcyclists on the roads.

It reduces the risk of a motorcycle accident due to reckless riding.

It can reduce your insurance premiums.
The adrenaline rush of driving fast makes for an exciting experience but one wrong move and your life could be over. Riding a motorcycle is scary, but with a motorcycle safety course, you can calm your nerves and just enjoy the ride. Below we highlighted five places to take a Motorcycle Safety Course in Columbus, Ohio.
For a motorcycle safety course near me, consider these training sites.
1. Motorcycle Ohio
Proper training can make the difference between riding confidently or not at all. Motorcycle Ohio offers an intensive course for all levels, including Basic Rider Skills (BRS), Returning Rider (BRS-RR), and Experienced Rider Skills (BRS-2). The courses are held at various sites across Ohio and include classroom time to help you prepare for the road and set hours of riding time to help you build your skills.
During the practical session, you will learn about motorcycle basics and how to control the motorcycle for various situations. After that, you will take to the roads with one of the riding instructors to develop your skills- giving you priceless real-life experience.
The Motorcycle Ohio experience is designed to get you riding with confidence in a safe, fun environment, with an excellent training course at each of their locations for all riding levels.
2. Delaware Area Career Center
As part of the Columbus Metropolitan area, Delaware Area Career Center is an ideal location for your motorcycle safety course.
It offers courses for students of various levels. Whether you are just starting to learn how to ride or you need to brush up on your skills, Delaware Area Career Center has a course that fits your needs.
With a staff of experienced instructors, it offers classes for beginners (BRS)- a 16-hour course, with no experience needed, and returning riders (Returning Rider BRS)- an 8-hour course designed for experienced riders who are 18 and above.
Riders are educated on several topics, including motorcycle driving and street skills. They get to learn about limited-access roads, how to ride on obstacles and deal with unfamiliar roads. They are also taught about bike maintenance and procedures to avoid accidents while practicing safe riding techniques on public roads.
3. Iron Pony Riding Academy
Whether you have little or no experience cruising down back roads on two wheels or are looking to move up to a bigger bike, Iron Pony Riding Academy has a program for you. It offers comprehensive training in a controlled environment that will enable you to safely and properly operate a motorcycle.
Its 16-hour curriculum is based on the Motorcycle Safety Foundation, and is sectioned into a 4-hour classroom session and a 12-hour practical training session.
Moreover, Iron Pony Riding Academy has professionally trained instructors who are certified by the Ohio Department of Public Safety's Motorcycle Ohio Division.
4. Farrow Harley- Davidson Riding Academy
Become a better rider with Farrow Harley- Davidson in-class instruction or hone your skills with one-on-one on-range coaching.
If you are new to riding, this course will help you develop the skills and attitude needed to enjoy riding for years to come. And, if you are an experienced rider, the Academy will share techniques to help improve your riding technique so you can enjoy even more of your time on or off the road.
Take instruction from MSF and Harley-Davidson certified instructors in the classroom and on the range. As a new rider, you will learn not just how to operate your motorcycle—you will learn the right way. All motorcycles are provided for New Rider Course classes so you can focus more on your learning experience.
5. Columbus State Community College
The  Center for Workforce Development at Columbus State Community College offers in-depth programs designed specifically for new and experienced riders.
Attend one of the four motorcycle classes provided to get the license you need to ride on the road. The Basic Rider Course is for new and returning riders and is designed to provide them with important skills necessary for riding, such as gear selection and basic maintenance. Advanced Rider Training teaches techniques for riding safely and includes motorcycle care maintenance skills that will help you learn how to properly care for your bike while protecting your investment.
You will be taught by instructors with experience in the field, and classes are offered in segments so you can work around your hectic schedule.
You Should Know That:
A motorcycle safety course is designed to prepare new or returning riders for a motorcycle license or license endorsement. Successful completion of the course allows you to obtain the BMV skills test waiver for a motorcycle endorsement.
A Temporary Instruction Permit Identification Card (TIPIC) is required before you can be allowed to take the course, and you can get this through the BMV website. Both new or experienced riders should register for the motorcycle safety course through the Motorcycle Ohio website.