How to Prevent Child Injuries in an Auto Accident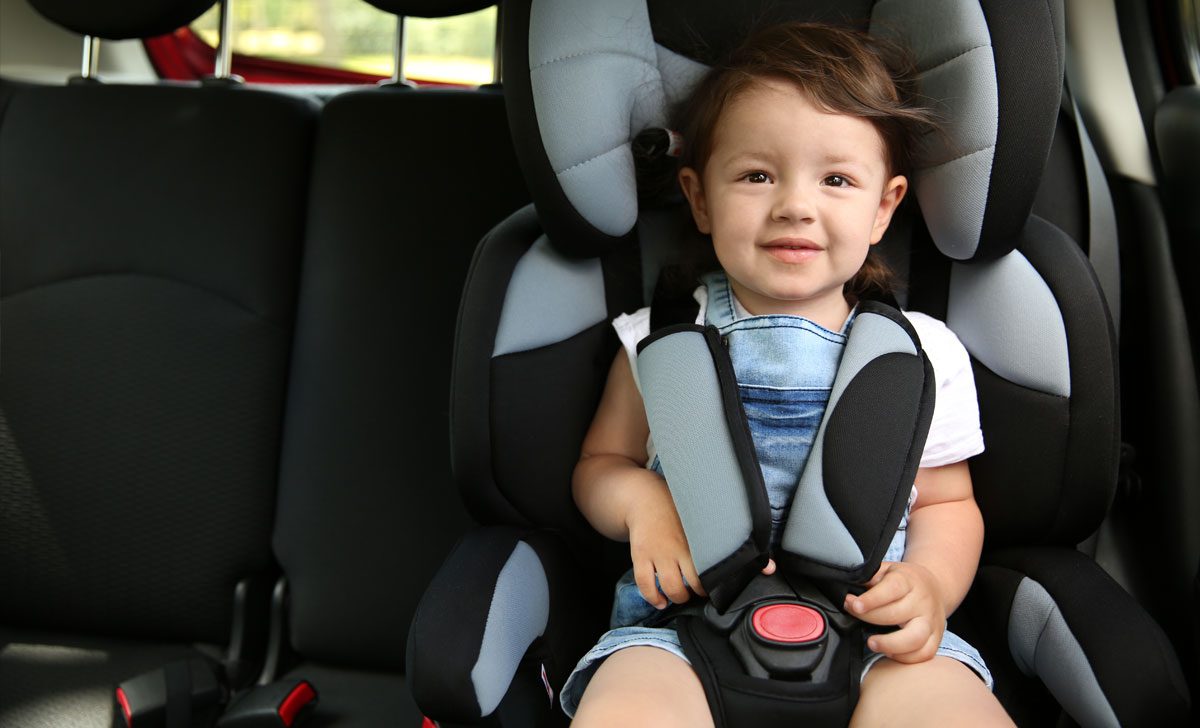 Simple Tips to Keep Your Child Safe in the Car
Have you or your child been injured in a motor vehicle crash? The Ohio personal injury lawyers at Erney Law are standing by to help. Contact us for a complimentary case evaluation. You'll be glad you did.
An auto accident is something every driver fears. With more than 3.2 million injuries occurring in motor vehicle crashes each year, we must take the necessary precautions to ensure our children are safe.
According to the Centers for Disease Control and Prevention (CDC), hundreds of children under 15 years of age are killed every year in traffic accidents in the United States alone, and well over 100,000 are injured.
You can do some simple things to prevent child injuries in an auto accident and keep your child as safe as possible.
But before we dive into that, here are common injuries to children in auto accidents.
Common Injuries to Children in Auto Accidents
Any time you are involved in an accident, you will be in a very hectic situation. If you are in an accident involving children, you need to be aware of the different injuries they are most likely to suffer. Any time children are involved in an auto accident; there is a risk of significant injuries, including the following:
Spinal Cord Injuries
Spinal injuries mainly occur in high-speed frontal crashes of motor vehicles with front-row teenage drivers or passengers who sustained non-fatal vertebral fractures from flexion over the shoulder belt. However, these injuries are more likely fatal to small children improperly restrained in their car seats or booster seats. 
Head Injuries 
Head injuries, also commonly referred to as brain injury or traumatic brain injury (TBI), are among the most common causes of disability and death in children. Head injuries are a broad term that describes injuries to the scalp, skull, brain, and underlying tissue and blood vessels in the child's head. These injuries can be as mild as a bump, bruise (contusion), or cut on the head, or can be moderate to severe due to a concussion, deep cut or open wound, fractured skull bone(s), or from internal bleeding and damage to the brain.
Airbag Injuries
The most common airbag injuries are minor, including skin abrasions, hearing loss, head injuries, and eye injuries. More moderate airbag injuries include having a broken nose, broken fingers, broken arms, broken fingers, fractured ribs, and facial lacerations. Skin burns to the arms, chest, and face can happen because of the heat when an airbag explodes. Side airbags can also cause injuries to the spleen and rib fractures. Some airbag injuries can be fatal, particularly in kids, shorter people, or older adults.
Fatal Injuries
In the United States, motor-vehicle-related fatalities are among the top five causes of death in children. According to the National Center for Injury Prevention and Control, 2,644 transportation-related deaths occurred in children ages 17 and younger nationally in 2017. Deaths resulting from motor vehicle collisions are attributed to not wearing seat belts, careless driving (contributing factors include inexperience, speeding, and distracted driving), and impairment. 
Child Passenger Safety
No one thinks a car accident will happen to them until it does. While you cannot always prevent injuries during a motor vehicle accident, there are things you can do to minimize the risks to your child. 
Depending on age, weight, and height, children need to be in car seats, booster seats, or seat belts every time they are in the car. This fact sheet explains Ohio's Child Passenger Safety Laws and provides parents with additional tips to keep children safe while riding in a motor vehicle. 
Ohio Child Passenger Safety Laws
One of the best ways to keep your child safe during an auto accident is by making sure that they are correctly secured in the car. Parents and caregivers are required by Ohio law to obey the following child safety practices:
Infants and young children must ride in a child safety seat until they are 4 years old and weigh 40 pounds.

Every child ages 4 through 8 who are no longer in a car seat must use a booster seat until they reach 4'9" tall.

Older children and teens ages 8 through 15 who are not in booster seats must use adult seat belts.
Safety Tips for Child Passengers 
Infants and young children will continuously outgrow their car seats. Always make sure your child is in the proper seat for their age, weight, and size – using a car seat that is too big or too small for your child won't protect them adequately in an accident – and could potentially cause more injuries. Older children should also ride in the back seat until they are at least 13 years old. 
Here are more essential things to consider:
Before installing a child safety seat, read the car seat instructions and the owner's manual for your vehicle.

Check that you have used the correct belt path for the seat belt or the lower anchors.

All car seats should be installed tightly, not being able to move more than one inch from side to side or toward the front of the car.

Harness straps must be snug around your child. You should not be able to pinch any slack in the harness.

If the car seat has a plastic retainer clip, adjust it to be level with the armpits.

Replace any child safety seat that has cracks, missing pieces, or worn straps or that has reached the manufacturer's expiration date.
Rear-Facing Car Seat Safety 
According to Ohio law, infants and young children must be in child safety seats until they are at least 4 years old and weigh more than 40 pounds.
For best protection, infants and toddlers should be in safety seats facing the back of the car until 2 years of age, or until reaching the maximum height or weight of their convertible car seat.
Forward-Facing Car Seat Safety 
Children should remain in a harnessed car seat until reaching the weight or height limit of the car seat. Most car seats have forward-facing weight limits of 40 to 65 pounds.
Once a child has outgrown the weight or height limits of the rear-facing seat, they can switch to a car seat that faces forward. However, infants must not face forward until they are at least 1 year old and weigh 20 pounds.
Booster Seat 
Once a young child reaches 4 years of age and weighs at least 40 pounds, they can move to a booster seat. Younger children are required by law to use the booster seat until they're 8 years old or 4'9" tall.
Both backless and high back booster seats are available for car seat use. Check the manufacturer's instructions to see which is best for your child.
Lap & Shoulder Seat Belts 
Most children are ready to use a lap and shoulder seat belt without a booster when they are 4'9" tall, regardless of age or weight. All children are required by Ohio law to be secured in a child safety seat or seat belt until they are 15 years old.
As a reminder – for best protection, everyone in the car should be buckled up on every trip.
What Else Can I Do to Keep My Child Safe During an Auto Accident?
Remain Calm 
An essential thing you can do for yourself and your child during an auto accident is to remain calm. By remaining calm, you can assess the situation – where you are, how far away from home, or what injuries may have occurred – so that you can make the best decisions for yourself and your child. If possible, remove yourself from danger.
Get Medical Attention
Be sure to check on your child as soon as possible after an accident. Remember to call emergency services (911) immediately and follow their instructions for obtaining emergency medical care for you and your children. Any injuries should be checked out by a doctor or nurse immediately. 
Accident Documentation
If possible, obtain the names and contact information of anyone who witnessed or was involved in the accident — police officers, doctors, or other emergency personnel will help with this — as well as the name and contact information for anyone involved.
What to Do After a Child is Injured in an Auto Accident
If your child has been injured in an auto accident, you may be entitled to compensation for your child's injuries. You may recover money for medical bills and possibly any future medical expenses related to the injuries incurred from the accident.
However, you may have to file a lawsuit against the motorist who caused the accident to recover these costs – this process can be complex to handle on your own. The most important step you can take after your child is involved in an auto accident is to contact an experienced auto accident attorney who can advise you on your options and help protect your legal rights.
Your case is too crucial for you to try to handle it independently. The insurance company for the other driver may send someone out to talk with you, but they will probably try to convince you not to file a lawsuit and settle the matter out of court. Do not agree to any settlement unless your attorney is involved in the negotiations and approves. Insurance adjusters know that it's in their best interest to get your claim settled quickly and for the lowest amount possible by offering what seems like a reasonable offer. However, it's not always in your best interest to accept their initial offer.
Need Legal Help With a Child Auto Accident Injury? Call an Auto Accident Attorney
Injuries sustained in a car crash can have a lasting impact on your child's life. Considering the high cost of medical treatment, it is essential to have a strong legal team fighting for your child's rights.
At Erney Law, we understand the psychological and financial impact of a severe injury, and we will work tirelessly to guide you through this difficult time.
Our auto accident attorneys offer free consultations to determine if your case qualifies for compensation for medical expenses, pain, and suffering, loss of income, and more. Helping your child right is our top priority. Your child's needs come first, which means we will be available by phone or email to answer questions you may have.
We want our clients to feel confident when they turn to us for help. That's why our legal team offers flexible hours to accommodate families dealing with the physical and emotional strain of a car accident. We handle personal injury cases from start to finish. Don't hesitate to contact us if you're ready to discuss your options with skilled legal representation. If you need immediate assistance due to the injuries sustained in a car accident, you can also fill out the Free Case Evaluation form on this website and receive a response within 24 hours.
If your family has suffered a severe injury in an automobile collision in Columbus, Ohio, please call us at (614) 258-6100 for a free consultation. Our experienced attorneys will answer all of your questions and help you decide if you have a valid case for compensation.