Guardianship Lawyer Columbus, Ohio
Are you the loved one seeking guardianship for an incompetent adult, their estate, or a minor child? We can help.
Guardianships are granted to one person to take care of another person, whether it is the actual person, the estate of that person, or both, when they are not capable of taking care of themselves.
Are you wanting to become a legal guardian? Get a Free Case Evaluation today.
A guardian is a person appointed by a probate court to be legally responsible for another person and that person's property. The person you become a guardian for is known as a "ward". A ward can be an adult who has been deemed incompetent and unable to take care of themselves and their estate, or it could be a minor child under the age of 18. The duties of a guardian is to oversee legal and financial affairs, and must obey the orders and judgement established by the probate court. Erney Law in Columbus, Ohio can help walk you through all your probate court needs while seeking guardianship of a minor child or incompetent adult.

No legal fees unless your case wins

Contact us directly anytime

Free, no-obligation case evaluation

Fair and full justice you deserve
Why you need a guardianship lawyer in Columbus, Ohio.
There is a significant amount of paperwork that needs to be prepared and filed during the process of the guardianship application, and the guardianship hearing may be very overwhelming and intimidating to a potential guardian. Having an experienced and knowledgeable guardianship attorney like Robert D. Erney by your side will help ease the anxiety and inexperience you poses.
What are the different types of guardianships in Columbus, Ohio?
There are a number of different types of guardianship relationships. In some cases, the guardian has full decision making abilities over the ward and in other cases, the guardian is limited to only making certain decisions such as financial or legal. Here is a list of different guardianships in Ohio:
Full Guardianship – is the grant that the guardian has the ability to make decisions for the ward's personal, financial, legal, and healthcare
Limited Guardianship – is granted to the guardian to only make decisions on the topics the ward is unable to. These decisions are often for more complex topics such as financial, healthcare or life changes
Co-guardianships – is when the court grants more than one person to make decisions on behalf of the ward which helps prevent abuse of power
Short Term Guardianships – are granted when the ward is in an emergency situation or only temporarily unable to make their own decisions
Guardianships of an Estate – is the task of overseeing, managing, and making financial decisions on behalf of the ward
Guardian ad litem – is a guardian appointed by the court to represent the ward's interests in legal proceedings
"This team was very compassionate and professional. My lawsuit was extremely frustrating and complicated and they always seem to make me feel better at the end of the day. They were concerned not only with getting me my settlement and fighting for what was right but also concerned with my well being and health! I am so glad I went with this team to handle my case. I would recommend them to anyone."


Andrea L.

"Over a year ago I was involved in a car accident and was injured. I contacted Erney Law in Columbus Ohio and spoke to Mary Erney. The following day I met up with the father-daughter duo Robert & Mary Erney... best decision I ever made. They fought for my case 100%. Their honesty and open communication gave me assurance that I was in good hands. Thank you to Mary Erney for being understanding, caring, knowledgeable & determined. If you looking for a great attorney I highly recommend Erney Law."


Jen B.

"Mary and Mr. Erney were very helpful in my case. I didn't have to call and remind them of anything. I heard from them often and never had to reach out for an update. What I loved most was that they recognized who I was every time I stopped by. I didn't feel like just another client like most places make you feel. They were both very professional. I felt comfortable and trusted their advice every step of the way. I will definitely use Mary and Mr. Erney again in the future!"


LaNajee S.

"Back in Late 2018, I was T-Boned by a Mail Van that went speeding through a stop sign. I wasn't able to fully use my right hand for almost 5 months and this was the first time I had even taken on legal representation. She was very transparent through the entire process and kept me up to date as things progressed with my suit."


T'Asiah P.

"First off let me say, if I could give more than 5 stars, I would! I had the pleasure of working with Mary Erney of Erney Law. She and her entire firm were absolutely amazing! I was searching for an attorney who would take my case since I lived out of state. I thought there was no hope at all. I found Erney Law via online search. I spoke to Mary and from the very first conversation, I knew I wanted her to be my attorney. Why? Because she cared! From the start, her approach was a caring one. She took time to get to know me and my situation and she put her all into my case. She walked me through every step of the process and she was very patient with me and willing to explain any and everything. I could go on and on about the amazing experience I had working with Mary Erney and Erney law. If you are looking for a law firm to handle your case AND one who cares about you as a person, this is the one! I want to say thank you Mary and everyone at Erney Law. It has been a pleasure working with you!"


Mickey A.

"Rob and Mary are the best in Columbus. They are very kind and compassionate and will do everything in their power to get you what you deserve. They took the time to come meet with me on multiple occasions when I was in a care facility. They answered all of my questions and explained the processes. I felt completely in the know the entire time. They offered to represent me in court and fought for me with insurance companies with great success. I would highly recommend them to anyone who has been injured in an accident. Next time I need a lawyer they will be my first and only call!"


Rachel W.

"Robert D. Erney and Mary E. Erney provided my daughter and I with competent and honest legal services for our case of Pedestrian vs. Auto Accident involving a minor, my daughter Ava. I would like to say that they have done amazing work to help my daughter who is only seven years old. I recommend this law firm to anyone needing help."


Reginald M.

Personal injury cases can be complicated and not always guaranteed. Our process ensures that every client we represent will receive the best possible legal representation, positive financial outcome, and can start the healing process in a timely manner.

Free Case Evaluation
We will first review your case carefully, get to know you, and gain an understanding of your injuries.

Monitor Your Care
We ensure you are receiving the proper medical treatment during this difficult time.

We Handle Everything
We will relieve the worry and burden of dealing with the insurance companies and maximize your financial recovery.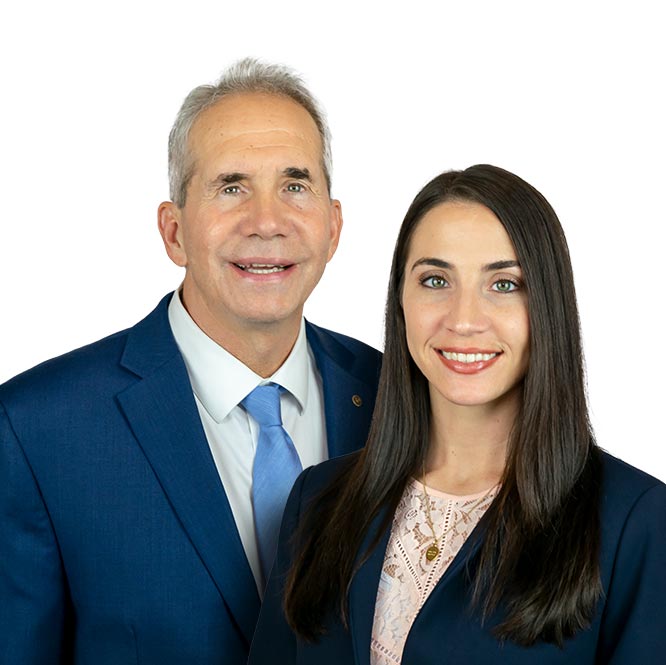 Frequently Asked Questions
Are there different kinds of guardianships?
Yes. There are guardianships of the person, guardianships of the estate, minor guardianships, and guardianships for incompetent adults. An experienced attorney can assist you in determining the type of guardianship that will best suit your needs. Please contact our office to discuss guardianships further.
Who appoints guardians?
The probate court for the county you live in has the power to appoint guardians. An experienced attorney can assist you in determining where a guardianship should be applied for. Please contact our office to discuss guardianships further.
What is guardianship of a minor?
Guardianship of a minor is just like it sounds. It gives the guardian the legal authority to act on behalf of a minor child until the minor reaches the age of 18. An experienced attorney can assist you in determining if you need a guardianship for a minor child. Please contact our office to discuss guardianships further.
What is guardianship of an incompetent adult?
Many times an adult is not capable of caring for themselves, whether due to illness, disability, or other matters. In these cases, the probate court will appoint a guardian of the incompetent adult. An experienced attorney can assist you in determining if you need a guardianship for an incompetent adult. Please contact our office to discuss guardianships further.

Free Consultation
We're eager to meet with you about your legal issues, see how we can help, and give you and your family the personal attention you deserve.
Your personal injury case matters to us, just as much as it matters to you. We want to help you every step of the way, but in order to do so, we need to meet with you, get all the facts, and work out the details in order to build your personal injury case. We will meet with you for absolutely free, and explain to you in full detail the inner workings of how these situations usually end up, how likely you are to win your personal injury case, and how compensation works for you and for us.
Ashville, Ohio
Bexley, Ohio
Blacklick, Ohio
Canal Winchester, Ohio
Delaware, Ohio
Dublin, Ohio
Gahanna, Ohio
Grandview, Ohio
Grove City, Ohio
Groveport, Ohio
Heath, Ohio
Hebron, Ohio
Hilliard, Ohio
New Albany, Ohio
Newark, Ohio
Pataskala, Ohio
Powell, Ohio
Reynoldsburg, Ohio
Sunbury, Ohio
Upper Arlington, Ohio
Westerville, Ohio
Whitehall, Ohio
Worthington, Ohio
Zanesville, Ohio